A FRENCH BRAND OF
FUN, COLORFUL UNDERWEAR
You'd never guess it from the name, but FREEGUN is a French brand! FREEGUN is famous for colorful boxers. We were founded in 2007 by TEXTISS, a company located in Drôme near Montelimar.

When we launched our first FREEGUN underwear, our goal was to make fun boxers available for all, to liven up teens' drawers, and to replace traditional, sometimes boring underwear with color and excitement.

By 2010, just three years later, FREEGUN had become the number one brand of fun underwear in France (Yesss! The top bro! The leeeeeeader!) ;)
Since then we've kept on growing, offering more and more new items, designs and co-branded products thanks to the hard work of our various teams (especially the marketing team! I'd definitely say they work the hardest…)
FREEGUN UNDERWEAR, AND MORE...
Even though our star product is still our underwear, here at FREEGUN we're developing our brand!
When it comes to underwear, caps and swimsuits, we've got it handled.
For everything else, we team up with other French companies who take care of manufacturing FREEGUN products like clothing, shoes, beach gear, school supplies, etc.
You can find all our products at major retailers!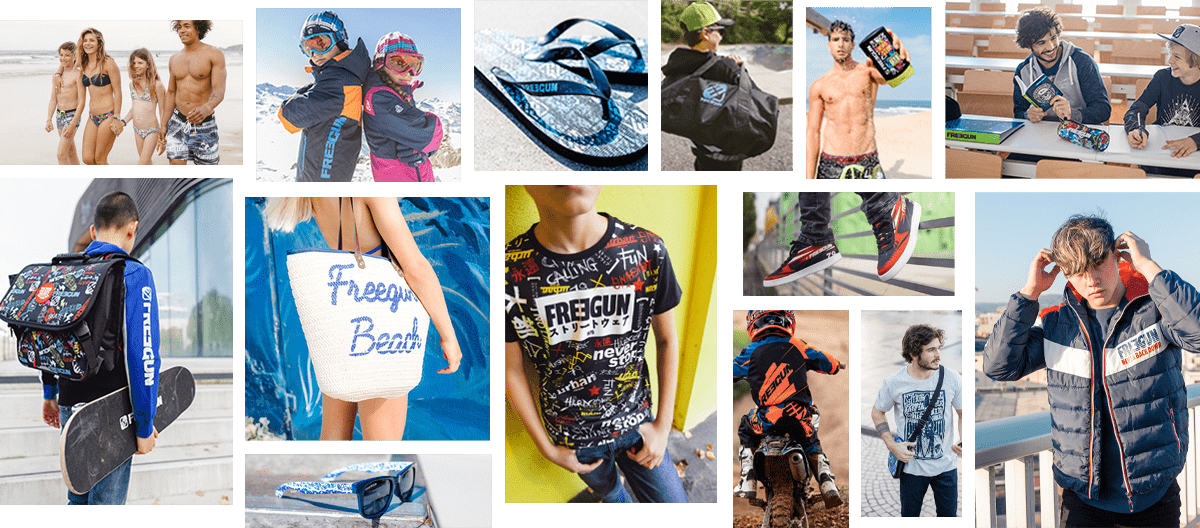 FREEGUN SPIRIT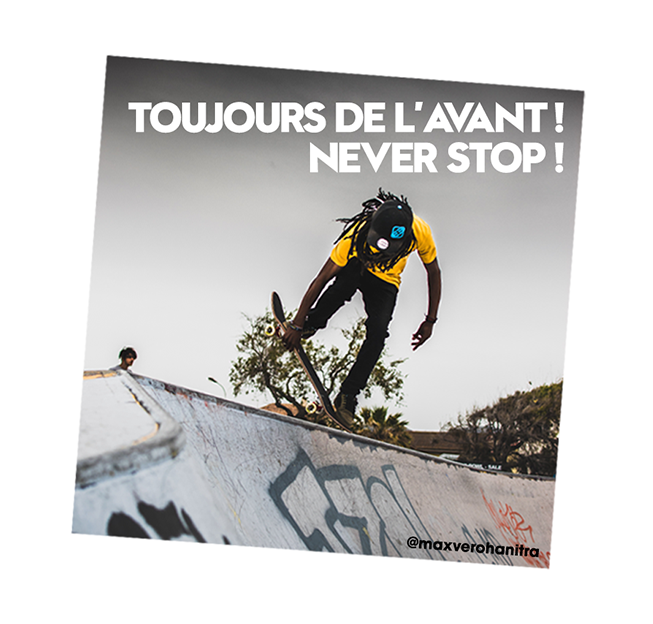 THE FREEGUN UNIVERSE IS FOR FREE, UNCONVENTIONAL & PASSIONATE SPIRITS
FREEGUN is an underwear and streetwear brand accessible to all. NEVER STOP WITH FREEGUN ! Be ready to fully live your passions without constraints and always with respect. Test, taste, try, dare, fall... then get up without any regrets!

Our motto : NEVER STOP !

That's why FREEGUN is anchored in the world of urban sports with a strong interest in disciplines where "freestyle" makes it possible to stand out. In line with this approach, we support several athletes whose disciplines and values match with Freegun DNA.
FREEGUN UNDERWEAR: PATTERNS OR SOLIDS ?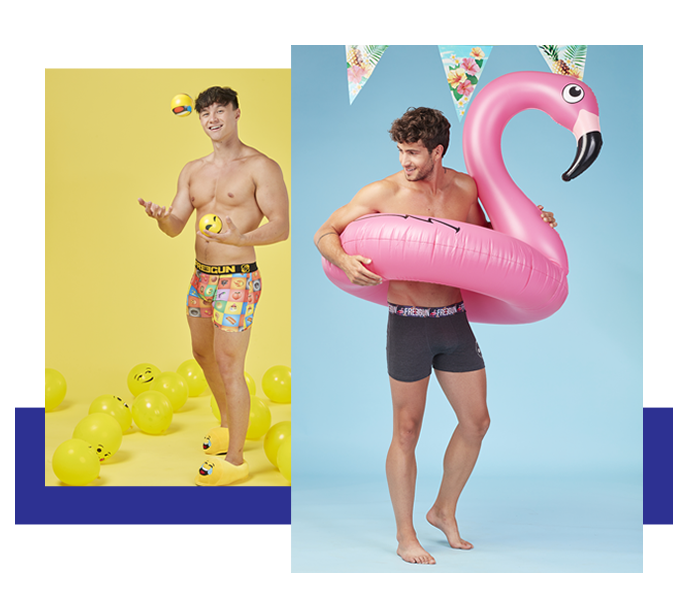 At FREEGUN, we're known for underwear with fun, colorful patterns, sometimes designed in collaboration with famous brands and characters like Marvel, Dragon Ball Z, Raving Rabbids, Disney, Looney Tunes and Pokemon. .Our products attract fans of all ages: kids, teens and adults alike wear theirs Dragon Ball Z ou Raving Rabbids underwear proudly !

For those that prefer more serious underwear, we also offer polyester and cotton models in solid colors, with or without patterned waistbands.

Finally, for the most energetic among us: Hey athletes, check out our Aktiv' boxers! It's a line of boxers with a high-performance design that supports physical effort. The fabric and cut provide optimal comfort and complete freedom of movement. The icing on the cake: some of our Freegun Aktiv' collections were developed jointly with famous brands and characters!



FREEGUN'S COMMITMENTS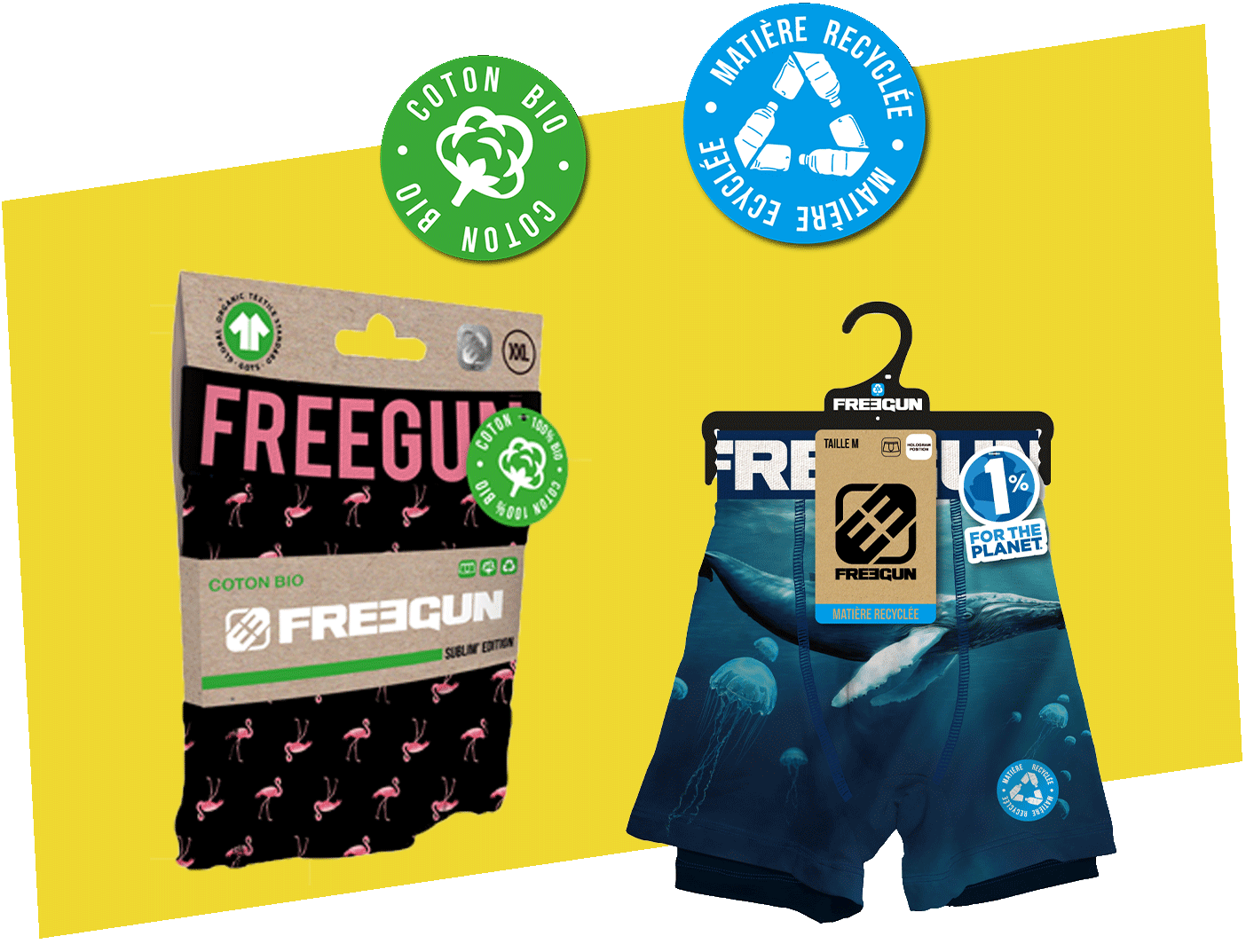 In 2020, FREEGUN launched two new eco-friendly underwear lines for the whole family.There's an organic cotton line (GOTS* certified*) and a recycled polyester line (GRS* certified).

1% of revenue generated by sales of these eco-friendly products is donated to environmental groups approved by 1% for the Planet*!

The two product lines are also Oeko-Tex® Standard 100* certified, which means that each textile is scientifically tested.
Their packaging has also been designed to limit environmental impact: the recyclable cardboard is FSC* certified, and the polypropylene hangers are recycled and recyclable.
But our commitment goes beyond launching these new products. From the beginning, TEXTISS has done business internationally. This has given us a global vision and an awareness of our economic, social and environmental impact. That's why we make a point of continuously improving whatever can be improved.
From working methods to products, HR policy, tools and more, we are already addressing social challenges as well as those related to sustainable development within our company, and we will continue to do so.
To learn more about the environmental and social commitments made by FREEGUN and TEXTISS,
go to www.textiss.com tab « Commitments » !
*GOTS: (Global Organic Textile Standard) The international processing standard that certifies textiles as fully organic, from harvest of their raw materials to a socially and environmentally responsible manufacturing process to labeling. Certificate issued by Greenlife Ecocert, license Nº 223589-TEXTISS
*GRS: (Global Recycle Standard) Certification ensures that TEXTISS products made from recycled polyester meet all recycled-content requirements. It also certifies that TEXTISS is committed to sustainable social and environmental practices. Certificate issued by Ecocert, GRS license Nº 223589-TEXTISS
*1% for the Planet: an international business alliance. For more information, visit www.onepercentfortheplanet.fr
*Oeko-Tex® Standard 100: Every certified textile is scientifically tested to ensure that all Oeko-Tex® requirements have been met. The Oeko-Tex® specifications are stricter that the European Union's REACH regulation, requiring the complete absence of any products potentially harmful to humans, even those that are authorized by law.
*FSC: Certifies that the wood used was sourced from forests that are sustainably and equitably managed, preserving biodiversity and respecting human rights (for workers and indigenous communities).